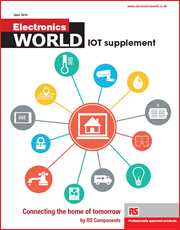 The Internet of Things (IoT) is forecast to connect several billion devices in the not too distant future − and it has already started. According to Harbour Research, an estimated two billion IoT devices were sold in 2014 alone, a figure expected to exceed seven billion in 2020.
However, as the Internet of Things (IoT) grows in popularity, one of its main criticisms is a lack of standardisation, already proving an issue in the smart home market. Some standardisation activities are already underway to ensure the appropriate communications technologies are available for the future of IoT, paving the way for the fifth generation of mobile radio. Connecting devices in the billions brings a huge opportunity for numerous industries to grow their businesses, drive innovation and be competitive.
In addition to standardisation, other essential steps to jump-start the development and deployment of new IoT-based services include stimulating an open-source industry standard development framework and running pilot case studies.
The continuous evolution of mobile broadband networks and related technologies is also critical to address the growing demand for connectivity and bandwidth – and, it is equally important to incorporate capabilities and mechanisms to monetise the networks to sustain continued investments.
Our supplement focuses on the IoT and issues associated with it. There are several articles from key OEMs on what the IoT needs to become a success.
To find out more, read our digital supplement, which is available now!
---